JEET Videoscopes Used in Different Industry Fields
Located in the innovation city of Shenzhen, Shenzhen Jeet Technology Co., Ltd. is a high-tech enterprise, which is professionally researching, developing and producing industrial endoscopes, automotive endoscopes, UV videoscope, IR videoscopes as well as tool borescopes. We have a highly educated R&D team with more than ten years' experience in endoscope development. Since the establishment of JEET, we have developed a variety of videoscopes to meet different inspection needs of the market.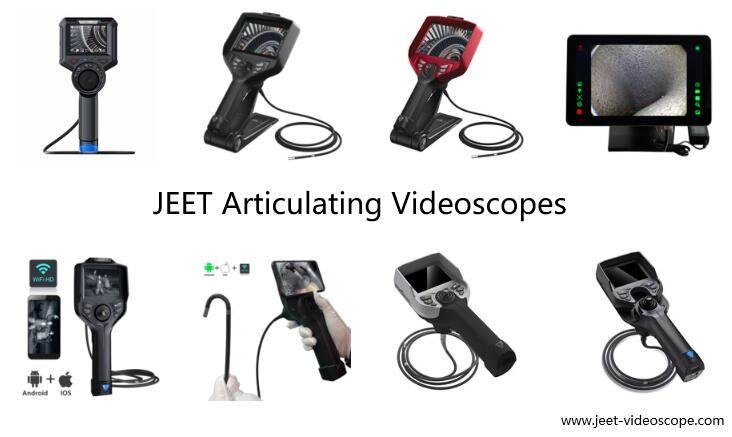 T series industrial videoscopes are the first product launched by JEET, which is module designed. Configured with 5.1 inches HD display, it can be interchangeable with 3.5 inches small display, suitable for different inspection requirements. The monitor and probe can be separated by one button. It is compatible with different diameter tubes like: 6mm&3.9mm, 2.8mm&2.2mm&2.0mm.T series videoscopes are widely used in many fields, such as automotive manufacturing, car aftermarket, police security checking, aviation and aerospace area, special inspection institute, pharmaceutical machinery, non-destructive testing explosion-proof detection, etc.
As an effective quality control method, fluorescent flaw detection is to coat the surface of the casting with a fluorescent liquid. The fluorescent liquid has a strong fluorescence under ultraviolet irradiation, which can quickly, intuitively and accurately detect the open casting defects on the surface of the casting. JEET TU series UV videoscope adopts modular design, the host and the handle can be separated with one button.The dual light source of the probe is designed in an integrated way, and an insert tube is equipped with both ultraviolet light and white light at the same time. By one-key switch through the universal button, white light can be used to find the direction, and ultraviolet fluorescence detection can be performed.
IR videoscopes are widely used in the fields of investigation, defense, military, security checking, explosion protection, search and rescue, and life detection. JEET R&D team successfully developed TJ series IR& white dual-light videoscope. In the narrow space of 6mm probe, it is equipped with white light source, infrared light source, temperature sensor, HD camera and other components at the same time. About the Infrared light source, it has two options of 940nm and 850nm, and IR/ white light can be fast toggled by one button without delay. This innovative technology represents the international advanced technology level, establishing an outstanding brand of JEET Videoscope.
S Series automotive borescope is JEET latest developed product. It is a good helper for automotive maintenance staff and NDT inspectors with affordable price. It adopts 3.5inches IPS full-view display, mega pixels sapphire glass lens and high precision probe, which ensures high definition image quality. With joystick-control 360°accurate articulation and 220°large bending angle, it can inspect every corner of detected object, which is a great breakthrough for industrial videoscope into the traditional maintenance tool market.